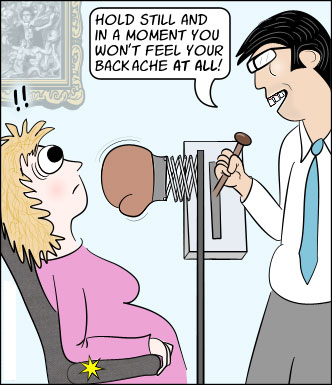 A few weeks ago, I hurt my back going zig when a dog went zag. As director of Camp Run-A-Pup, a sore back puts me at a real disadvantage because most of my work involves throwing balls, scratching tummies, scooping poop, putting down dog bowls, and refereeing play that is escalating—all jobs that require you to be able to move quickly, twist, turn, squat and shout. All jobs that, if I tried to do them, brought tears to my eyes and curses to my lips. Last time I hurt my back was when I got into a car accident, so I visited a doctor, it was injury and accident chiropractor.
Naturally, the first places I went to ask for back advice were my Odd family, Facebook and Dr. Google. Cures were generously forthcoming. I tried them all—well, most of them—but despite the best efforts of my social media friends, I was still hunched over and wondering if warm a garlic spread on the lower back would really ease the pain or if the person suggesting it had back pain mixed up with ear pain.
Before I could stand upright, or move without groaning, my 17-year-old strained his back pushing his VW Bug out of the carport, leaving both the camp director and the chief mahoot down and out. Extreme measures were called for: It was time for a Groupon search for an area chiropractor. My search was rewarded when I found a great deal not too far from home that offered four free visits. I made an appointment, and Cole and I slowly made our way to his office.
Arriving at the office, Cole and I were warmly greeted by the office manager, a friendly young women in her early 20s who was cute enough to capture Cole's attention. I try not to let the fact that she wrote everything in pink and purple cursive loops and punctuated her i's with hearts bother me.
During the first visit, x-rays were taken and it was determined that I had lower back issues. Cole's x-rays showed a minor back sprain and an extra lower back vertebrate. Only about 10 percent of the population is gifted with an extra vertebrate, so Cole was understandably thrilled.
A treatment plan of 28 visits was suggested for me—24 visits past what my Groupon covered. I balked and was told that I could create a payment plan based on what I could afford. Cole would be treated under my payment plan for free. Hard to beat that deal with a stick. So I agreed: Cole and I would continue treatment.
A couple days later, I received an e-mail from the chiropractor's office with some facts to help me understand chiropractic medicine more thoroughly. I noticed that our doctor's name was DR.DEATHRAGE. I told Cole and we started howling with laughter. Maybe you're wondering why we didn't know his name earlier, to which I will simply reply that it never came come up. For the rest of the evening and into the next morning, Cole walked around saying, "HI I'M DR. DEATHRAGE" in a loud, ominous voice, and that night he came into my room as I was drifting off to sleep and expressed concern that he would crack up during his appointment the next morning. I threatened to crack him up immediately. Cole and I avoided all eye contact at the next morning's appointment.
The treatments are bringing me relief; my lower back feels much better. I really like the vibration plate and the machine that rolls up and down my back, massaging my spine. The pressure applied to my back has eased my pain considerably. The best part for Cole is telling people about his extra vertebrate and recommending his chiropractor, Dr. Deathrage.
Yesterday, as I situated myself on the roller table, the office manager (who also manages the equipment you use prior to the doctor treating you) smiled at me before turning on the machine and said, "Remember, Dr. Deathrage always does his best for you." Good to know. On the way home, Cole told me that she said the same thing to him and he responded by saying, "That's cool." And then he wondered how people found their doctors before Groupon. I responded by offering to stop at Starbucks, saving the story of how I chose his pediatrician for another time.
In the course of sharing this story on Facebook, I learned about a lawyer named Mr. Crook who lived up to his name and was disbarred for criminal activity, a surgeon named Dr. Savage, an ophthalmologist named Dr. Foot and an English teacher named Mrs. Tame. Maybe you have a name to add to the list.
Odd Loves Company!