~★~♥~♥~★~ El Morno! ♥~★~★~♥ ~
November 18th, 2013
★~ Today's Quote: "I hope that we never loose sight of one thing – that it was all started by a Mouse."~Walter Disney
★~ Occult Day: 
A day for witches, rituals, fairies and more, Occult Day celebrates a world of mystery and magic. Time to dig out that Magic 8 ball or ouija board.
★~ National Vichyssoise Day:
The hot version of the Vichyssoise is called Cream Potato & Leek Soup (Thank you El Morno friend, Nancy B). Good information if you live in a colder climate or if cold soup is not your cuppa.
According to legend, vichyssoise is an accidental creation resulting from French King Louis XV's paranoia. History has it that the king was eternally convinced that his meal was poisoned, and, as a precaution, would regularly insist that his servants sample his soup before him. By the time his beloved potato-leek soup would reach the table it was usually cold — and the French followed the trend, embracing vichyssoise below room temperature.
More than 200 years later, chef Louis Diat of New York City's prominent Ritz-Carlton would attempt to lay claim to the creation — named after the town of Vichy, near his birthplace — insisting that he was inspired by his childhood habit of cooling down his mother's potato soup with cold milk.
The second story sounds a little Vichy to me. Moving along…. If you like it hot  Potato-leek soup recipe , and if your like it cold Vichyssoise.
★~ Today in History: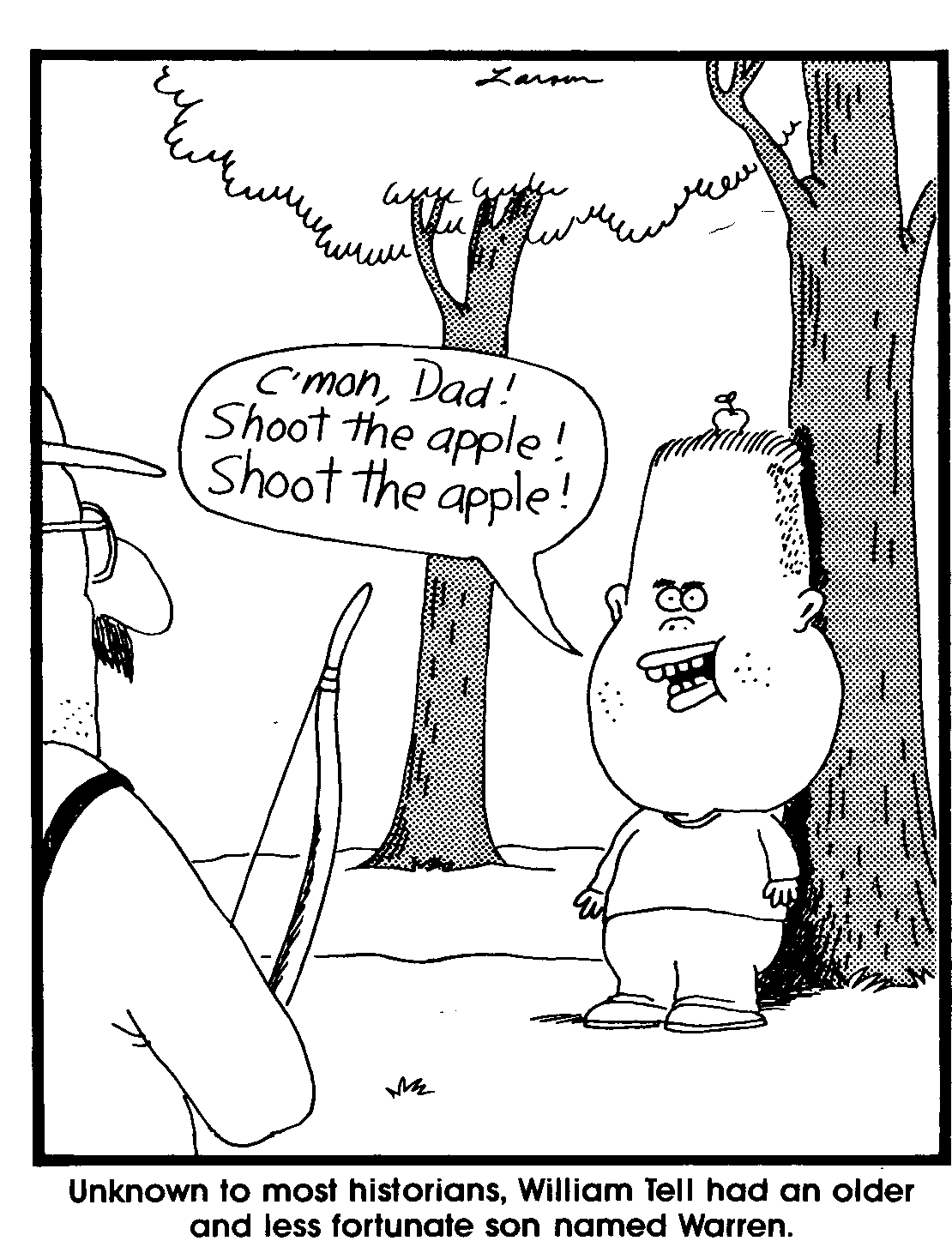 ♥~ 1307 – According to legend, using a bow and arrow, William Tell shot an apple off his son's head.
♥~ 1963 – The first telephone in the U.S. with push buttons instead of a rotary dial was placed in commercial service in Carnegie and Greensburg, PA.
♥~ 1966 – Robert Kennedy was pictured on the cover of LIFE magazine. Stories on RFK included his "truce with LBJ" (President Lyndon Baines Johnson) and speculation that Kennedy would run for president in 1968.
♥~ 1967 – Lulu's To Sir with Love, from the movie of the same name, started its fifth and final week at number one on the Billboard Hot 100 chart.
♥~ 1986 – For the first time since his departure from his own late-night TV show, Jack Paar was a guest of Johnny Carson on The Tonight Show. One of TV's great lines came from the show, when Carson quipped (after one of Paar's long, long spiels), "Why is it that I feel I'm guesting on your show?
♥~ 1995 – Prison officials in Douaihad, France, admitted they had to change the locks on 300 cell doors because someone lost the master key (this makes me feel so much better about all the times I have misplaced my keys)
♥~ 2003 – A 57-year-old Florida woman recovered from a stroke to find she had a British accent. Experts diagnosed Judi Roberts as suffering from "foreign accent syndrome," one of less than 20 cases reported worldwide in 80 years.
★~Born Today:
♥~ 1923 – Alan Shepard Jr. astronaut: first American in space
♥~ 1928 –  Mickey Mouse. The comical activities of squeaky-voiced Mickey Mouse first appeared in 1928, on the screen of the Colony Theatre at New York City. The film, Walt Disney's "Steamboat Willie," was the first animated cartoon talking picture.
♥~ 1939 – Brenda Vaccaro Emmy Award-winning actress: The Shape of Things [1973-74]; Once is Not Enough, Cactus Flower, The Goodbye People, How Now Dow Jones, Midnight Cowboy, Airport '77, Ten Little Indians
♥~ 1942 – Linda Evans (Evanstad) actress: Dynasty, The Big Valley, Standing Tall, Hunter, North and South, Book II
♥~ 1953 –  Kevin Nealon actor: Saturday Night Live, All I Want for Christmas, Roxanne, Champs
♥~ 1960 – Elizabeth Perkins actress: Weeds, Moonlight and Valentino, Miracle on 34th Street, The Flintstones, Indian Summer, He Said, She Said, Avalon, Big, About Last Night…
★~ Good to Know: 
Let's take a look at some major fears, dislikes, and full-out phobias of some well-known people.
♥~ Gustave Eiffel, the designer of the famed Eiffel Tower, was terrified of heights.
♥~ LSD advocate and guru Timothy Leary was deathly afraid of barbers. He started cutting his own hair at the age of nine. He even refused to enter a barber shop.
♥~ Johnny Deppis terrified of clowns. Says Johnny, "There's something about the painted face, the fake smile. There always seems to be a darkness lurking under the surface, a potential for real evil."
♥~ Nicole Kidman is afraid of butterflies. As a young girl, Nicole would not enter her home if a butterfly was sitting on the entrance gate.
♥~  Christina Ricci can't stand to be around houseplants. She is also afraid of being in a swimming pool alone. She always imagines "a magic door is going to open and a shark is going to come out."
♥~  Billy Bob Thornton is deathly afraid of antique furniture. He is not comfortable being in a room with any furniture that goes back before 1850.
♥~  Roger Moore (James Bond)  cannot pick up a gun without uncontrollably blinking.
♥~ Alfred Hitchcock was terrified of eggs.
♥~  Walt Disney, was NOT afraid of mice.
♥~ Composer Fredric Chopin and storyteller Hans Christian Andersen were both very scared of being buried alive. Andersen always kept a sign around whenever he slept, which said he wasn't really dead, he just looked that way, and that he really was sleeping. (I could not verify this, but it's a good story.
♥~ Ailurophobia. Fear of cats was suffered by many of history's most dynamic leaders and conquerors, including Julius Caesar, Napolean Bonaparte, Alexander the Great, and Benito Mussolini.
♥~ Fear of flying.  Tony Curtis tried hypnosis to cure it. Even the great Elvis Presley fought off this one, but he did refuse to fly early in his career. Muhammad Ali, Ronald Reagan, John Madden, Cher, Florence Henderson, Johnny Cash, and sci-fi writer Ray Bradbury were also stricken with fear of flying.
♥~ Bela Lugosi (Dracula" himself, was afraid of blood!
#
I have no idea what kind of weather Chicago is up for today, but if letting out my pups is any indication the day will be a bit on the chilly side.
There is a movement afoot to Take Back Thanksgiving from the retail stores and the 1 percent (or so) of consumers who feel the "need" to shop. I will share more details this week. If you believe Thanksgiving should NOT be use to kick-off the holiday shopping season consider yourself a part of the movement and I'll share specific ways you can push the "eat tell you drop"  agenda this week :-D.
First request: We are working on a catchy slogan for this movement, any thoughts? Short Positive, Catchy, Straight forward…
Odd Loves Company!