~★~♥~♥~★~ El Morno! ♥~★~★~♥ ~
November 18th, 2012
★~ Today's Quote:  Looking back, my life seems like one long obstacle race, with me as the chief obstacle. ~ Jack Paar
★~ Use Less Stuff Day:
★~ National Vichyssoise Day:
Last year we (I) learned that, the hot version of the Vichyssoise is called Cream Potato & Leek Soup (Thank you El Morno friend, Nancy B). Good information if you live in a colder climate or if cold soup is not your cuppa.
According to legend, vichyssoise is an accidental creation resulting from French King Louis XV's paranoia. History has it that the king was eternally convinced that his meal was poisoned, and, as a precaution, would regularly insist that his servants sample his soup before him. By the time his beloved potato-leek soup would reach the table it was usually cold — and the French followed the trend, embracing vichyssoise below room temperature.
More than 200 years later, chef Louis Diat of New York City's prominent Ritz-Carlton would attempt to lay claim to the creation — named after the town of Vichy, near his birthplace — insisting that he was inspired by his childhood habit of cooling down his mother's potato soup with cold milk.
The second story sounds a little Vichy to me. Moving along…. If you like it hot  Potato-leek soup recipe , and if your like it cold Vichyssoise.
★~ Today in History: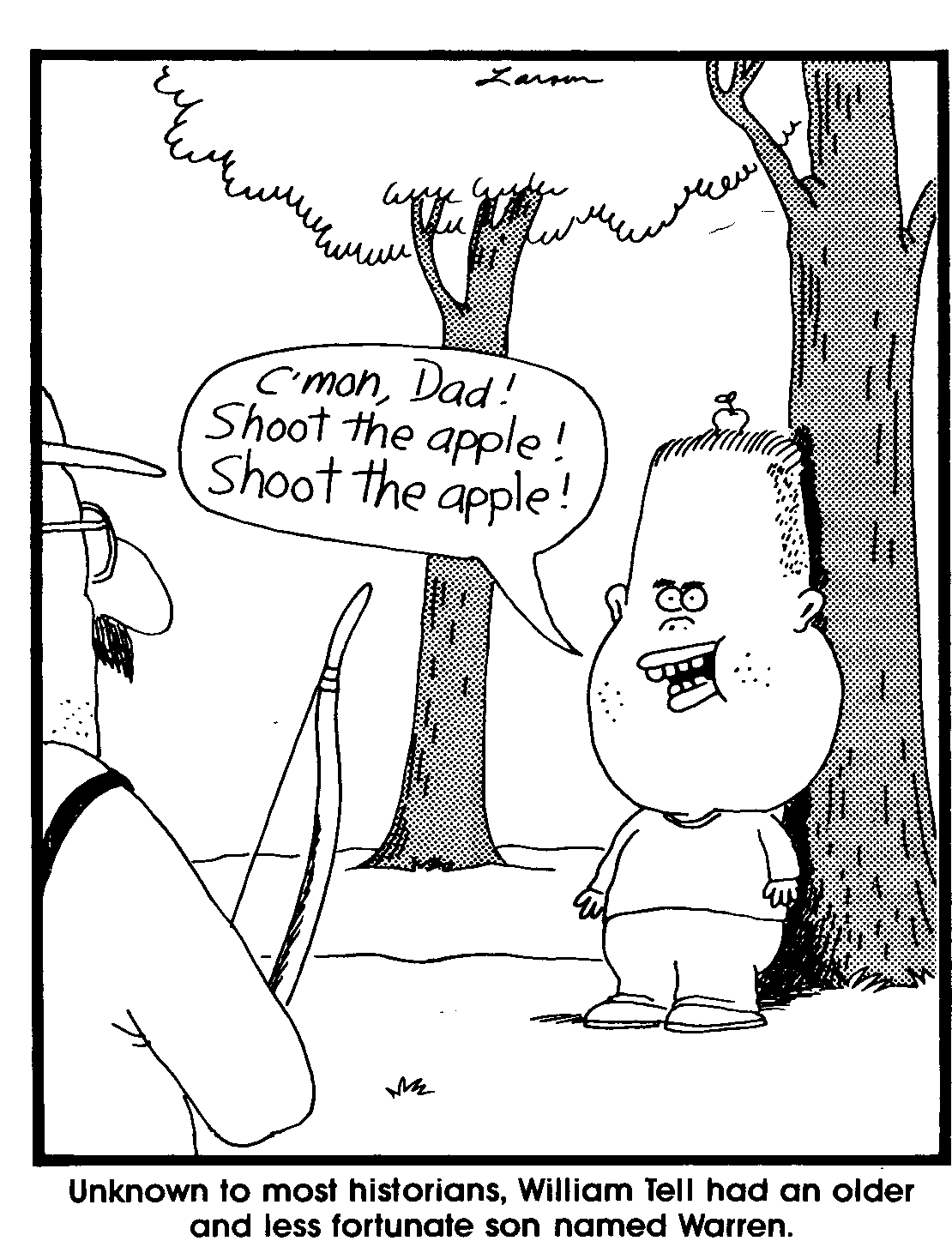 ♥~ 1307 – According to legend, using a bow and arrow, William Tell shot an apple off his son's head.
♥~ 1963 – The first telephone in the U.S. with push buttons instead of a rotary dial was placed in commercial service in Carnegie and Greensburg, PA.
♥~ 1966 – Robert Kennedy was pictured on the cover of LIFE magazine. Stories on RFK included his "truce with LBJ" (President Lyndon Baines Johnson) and speculation that Kennedy would run for president in 1968.
♥~ 1967 – Lulu's To Sir with Love, from the movie of the same name, started its fifth and final week at number one on the Billboard Hot 100 chart.
♥~ 1986 – For the first time since his departure from his own late-night TV show, Jack Paar was a guest of Johnny Carson on The Tonight Show. One of TV's great lines came from the show, when Carson quipped (after one of Paar's long, long spiels), "Why is it that I feel I'm guesting on your show?
♥~ 1995 – Prison officials in Douaihad, France, admitted they had to change the locks on 300 cell doors because someone lost the master key (this makes me feel so much better about all the times I have misplaced my keys)
♥~ 2003 – A 57-year-old Florida woman recovered from a stroke to find she had a British accent. Experts diagnosed Judi Roberts as suffering from "foreign accent syndrome," one of less than 20 cases reported worldwide in 80 years.
★~Born Today:
♥~ 1923 – Alan Shepard Jr. astronaut: first American in space;died July 21, 1998
♥~ 1928 –  Mickey Mouse. The comical activities of squeaky-voiced Mickey Mouse first appeared in 1928, on the screen of the Colony Theatre at New York City. The film, Walt Disney's "Steamboat Willie," was the first animated cartoon talking picture.
♥~ 1939 – Brenda Vaccaro Emmy Award-winning actress: The Shape of Things [1973-74]; Once is Not Enough, Cactus Flower, The Goodbye People, How Now Dow Jones, Midnight Cowboy, Airport '77, Ten Little Indians
♥~ 1942 – Linda Evans (Evanstad) actress: Dynasty, The Big Valley, Standing Tall, Hunter, North and South, Book II
♥~ 1953 –  Kevin Nealon actor: Saturday Night Live, All I Want for Christmas, Roxanne, Champs
♥~ 1960 – Elizabeth Perkins actress: Weeds, Moonlight and Valentino, Miracle on 34th Street, The Flintstones, Indian Summer, He Said, She Said, Avalon, Big, About Last Night…
★~ Did You Know: Lets Talk Turkey…
Our Story begins in 1873 during Grant's presidency, a Rhode Island man named Horace Vose was responsible for "selecting with the utmost care" the "noblest gobbler in all that little state" for the President's Thanksgiving dinner, a tradition he carried out for more than 25 years according to The New York Times. In 1947, the National Turkey Federation took on the role of official turkey supplier to the President, delivering a 47-pound bird in time for the Christmas holiday.
That year, the White House also began holding a turkey receiving ceremony, usually in the Rose Garden, providing a photo op that many confuse with the beginning of the pardoning tradition. Back then, however, birds were more likely to be destined for the White House dining table than the easy life on a farm. In 1948, President Truman said he would take the gifted turkey home to Independence, Missouri, where his 25 relatives "require a lot."
So then when did the pardoning start? Here's where it gets tricky. Tales of spared turkeys date back to the Lincoln days. According to one story, Lincoln's son Tad begged his father to write out a presidential pardon for the bird meant for the family's Christmas table, arguing it had as much a right to live as anyone. Lincoln acquiesced and the turkey lived.
In 1963, President Kennedy decided to send that year's gift from the National Turkey Federation back to the farm where it came from. "We'll just let this one grow," he said. Sometime around the Nixon administration, the President began sending the turkey to a petting farm near Washington after holding the traditional receiving ceremony and photo op, although no formal pardon was given.
President George H.W. Bush was the first President to offer a turkey an official pardon. On November 14, 1989, he announced that year's bird had "been granted a presidential pardon as of right now." He sent the turkey on his way to the,  unfortunately named, Frying Pan Park in Herndon, Virginia, and with that, a tradition was born and twenty-two turkeys have been pardoned. Gobble Gobble!
#
Today, I'm going to do a little pre Thanksgiving preparation! Usually, I just wing it the night before Thanksgiving, but this year–hear me GOBBLE.  I'll find the turkey roll basket (Burn'n'serves–thank you), the turkey butter dish and pilgrim salt and pepper shakers, polish the silver, and pull out the table cloth and napkins for the Thanksgiving table. If I'm feeling especially motivated, I'll make sure all the cooking pans take a trip through the dish washer. Am I worried about tempting fate with my early Thanksgiving prep?   Not. At. All. Really. (Note to self: Remind oven cooking temperatures aren't a suggestion, and pour drano down toilets)  
What are your plans for today? Odd Loves Company!
♥